EROS RAMAZZOTTI MEETS ANTONIS REMOS
22/6/2017 10:12:00 πμ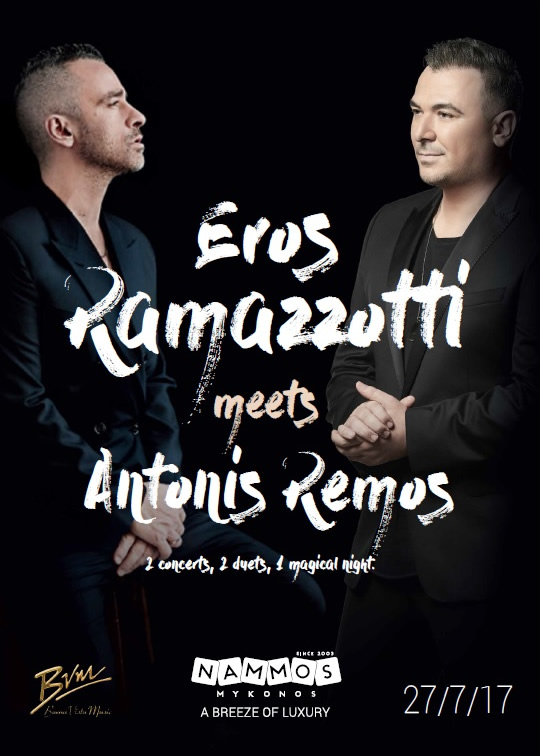 NAMMOS 27TH OF JULY 2017

A magical concert in Myconos island in the heart of the summer World famous artist Eros Ramazzotti meets Greek famous artist Antonis Remos, in an unexpected live concert in Nammos / Myconos on the 27th of July 2017.

Eros Ramazzotti is an Italian musician and singer-songwriter, very popular in Italy and most of the European countries, including Greece and throughout the Spanish-speaking world, as he has released most of his albums in both languages. He has released a total of 11 studio albums, one EP, three compilation albums, three live albums, and 37 singles. He has sold over 60 million records in his 30-year career. His repertoire includes duets with artists such as Cher, Tina Turner, Andrea Bocelli, Patsy Kensit, Anastacia, Joe Cocker, Lynn Davis, Ricardo Arjona, Luciano Pavarotti, Laura Pausini, Nicole Scherzinger and Ricky Martin.

Antonis Remos is the most popular Greek international singer, having a big number of fans all over the world. He has released a total of 10 personal albums, 4 live albums, 4 compilation albums and 5 singles. His repertoire includes duets with famous Greek and International artists. He performs in Nammos almost every summer meeting different famous international artists on stage, such as Julio Inglesias, Gipsy Kings and Danny Brilliant.

This year's concert will be the hottest event on the island for this summer.

Eros Ramazzotti will perform live sharing with the audience most of his international hit songs, captivating our senses with his unique, recognizable, forceful and resonant voice and his on stage energetic delivery.

Antonis Remos bringing out his best will perform his hit songs, well known in the greek and multiethnic audience of Nammos, with his powefull and distinctive voice and his on stage powerful delivery.

The two artists will meet for a couple of live duets, an unforgettable moment that will be the peak of the night.

Eros Ramazzotti meets Antonis Remos in Nammos by the sea.

A unique experience and an unforgettable evening.